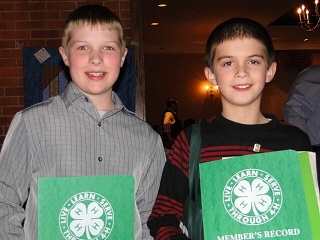 2016 Annual Awards Banquet
Saturday - January 9, 2016
6:00 PM
Quidnesset Country Club
950 N. Quidnessett Road
North Kingstown, RI 02852
Join us as we recognize and celebrate the outstanding work that RI 4-H'ers and volunteers completed last year. Back by popular demand, the meal will consist of chicken parmigiana, penne pasta, tossed salad and an ice cream sundae bar!
Registration Deadline: December 20, 2015
RECORD BOOK WINNERS -- FREE!
Meals for all youth 4-H Members that submitted record books and were 8 YEARS OLD AS OF January 1, 2015 are being sponsored by our RI 4-H Club Foundation. Their meal will be free! Thank you, RI 4-H Club Foundation!!!
VOLUNTEERS -- $13/person
Meals for volunteers in your party that were registered volunteers with the URI 4-H office before August 2015 are being subsidized by our RI 4-H Club Foundation. Thank you, RI 4-H Club Foundation!!!
ALL OTHERS -- $23/person
Meals for all other attendees (parents, siblings, etc.) will cost $23 per person.
We don't want to limit how many others can come to the banquet, but please keep in mind that we have over 150 youth that submitted record books and would like to go to the banquet! So a good guide is 1-2 Guests/Others per record book winner.
Also, while it is great to see the Cloverbuds at the banquet, the event will be approximately 3 hours long. It usually lasts until after 9:00pm and can be difficult for the little ones to keep focused (sitting quietly for that long). Older Cloverbuds do fine, but for younger youth it is a good idea to get a babysitter for the night.